2006-10-21 01:25
OOPSLA 2006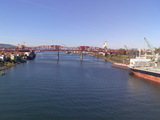 Arriving in Portland, Oregon at 10:50 in the morning, the day before the conference has been much better than arriving in the middle of the night like I did last year.
I'm staying at the DoubleTree Hilton hotell, a bit old, but both the people and rooms are nice.
The Oregon Conference center is just 5 minutes walk away from the hotell, and it's a pleasant stroll in the nice weather. We registered for the conference and inspected the conference center earlier today, and the conference looks very well organized.
This promises to be a good conference.